While driving I looked for signs of wind. You know, rustling leaves, flags waving in the wind and others. But no such signs turned up for quite some time.
But then….yes! I saw that flag indicating a nice breeze from a South Westerly direction. And as soon as I found the current wind direction, I knew exactly which beach to fly!
I parked the car, grabbed the rucksack and the kite bag and started to walk towards the water. I even bumped into, well, kind of, three deer on my way through the forest!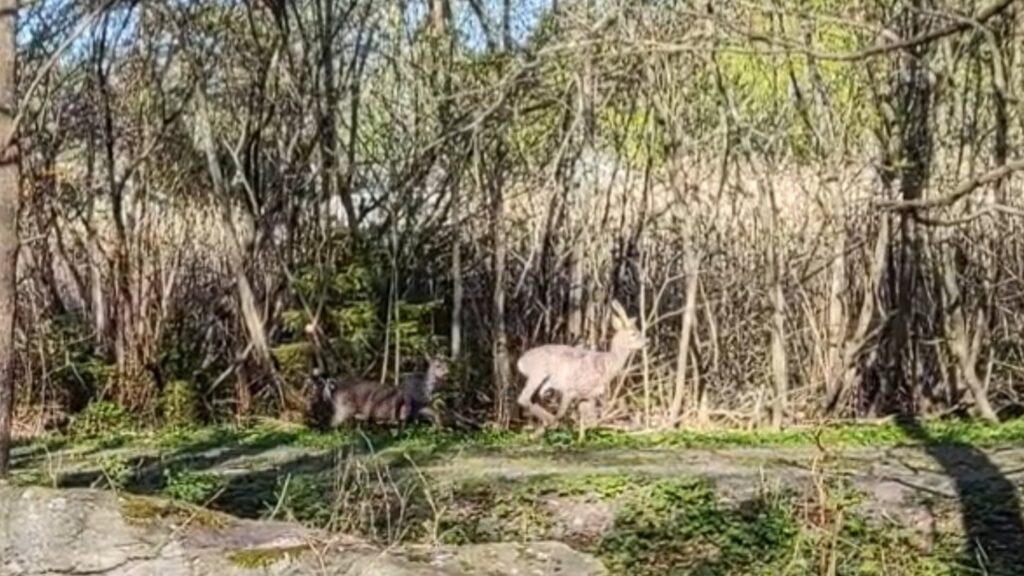 When I got to the beach the deer were long gone but yes, I had a nice breeze coming in from the water! After a quick rundown of kites I went for the A-Quad Semivented and a 10m set of lines. Brand new ones, by the way. 👍
Soon the icarex was flying happily up there and I got warmed up feeling goooood!
And it was time to launch the drone and do some – hopefully – epic kite flying footage from up there. I was using the waypoint mission of the Maven Pilot app and judging from what I could see on the screen while flying looked promising!
Slowly but surely the wind picked up and I had to go for a kite with more ventilation. I grabbed for the 3 x vented green kite and soon it had taken the place of the Semivented. I also had to put on some windproof as the temperature dropped and the wind picked up.
So dressed and equipped for the elements I was ready to continue flying … and filming with the drone.
…and if you ask me I think this video really is showing the cool combination of drone footage and kite flying! I hope you agree with me!