The A-Quad Diamond Ghost – by Anders Matson – doesn't require much wind to fly. Actually, with a bit of effort from the pilot, it flies in zero wind conditions too, but now that very light breeze was there to make lift … and a pilot's life a little easier!
This kite looks soooo cooool when you fly it when the sun sits low, just above the horizon. The placing of the different panels of withe and very light icarexy fabric (21g/square meter) somehow reflects the sunlight differently and this makes for a quite spectacular view.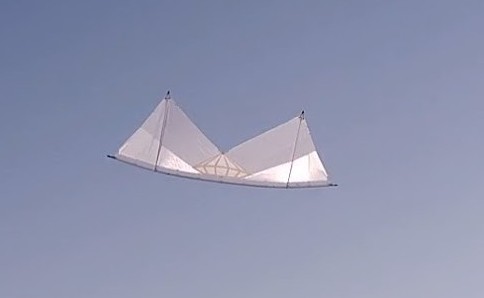 In the photo above, you can see how the different panels in the kite reflect the sun. I guess the different angles of the weave is making for this cool effect. (Or correct me if I'm wrong!)
Anyway, the kite flies pretty well too!